Need a break? Good news! There are lots of virtual tours and online performances to check out.
I put together this list based on my interests and some opportunities that my friends have been excited about. Did I miss a tour or performance you are hyped about? Drop me a note! I want to keep expanding this list.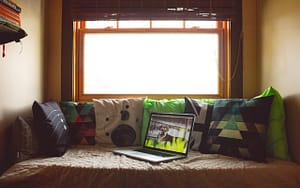 UPDATE: 4/2/2020 — Check out some improv!
UPDATE: 4/2/2020 — Watch shows from the National Theater

They are showing a new show each Thursday at 7 PM UK time!

April 2:

Richard Bean's

One Man Two Guvnors
April 9:

Sally Cookson's adaptation of

Jane Eyre
April 16:

Bryony Lavery's adaptation of

Treasure Island
April 23:

Tamsin Greig in

Twelfth Night

UPDATE: 3/24/2020 — Star Trek: Picard

Sr Patrick Stewart just announced it on his Instagram! Use this link (and the promo code GIFT) to sign into a CBS All Access account. You'll have a free month to watch the episodes.

While you're on his Instagram, check out his daily Shakespeare readings.

UPDATE: 3/24/2020 — Shows from the Globe Theater in London

Although these cost a bit to watch, they are cheaper than a ticket to the Globe AND (more importantly!) accessible now.

The Social Distancing Festival

A collection of live-streamed performances from around the world plus pictures, write-ups, and tidbits from canceled and postponed shows.

The Seattle Symphony

Live from my hometown of Seattle, Washington the symphony is periodically adding free broadcasts of live performances.

Astronauts Reading Kids Books

I kid you not… this is a real thing. And it's as amazing as you think it will be!

Twitch
Podcasts

I love listening to these while I'm walking, working out, and cleaning.
Virtual Tours
UPDATE: 3/24/2020 — Winchester Mystery House
Museums, Aquariums, Zoos, Landmarks, Film, & Music

This post from People has a whole lot of options! I would definitely use the search function to find what you're looking for.

10 Museums

This post from Travel & Leisure contains links to several famous museums (like the Uffizi Gallery in Florence) where you can check out their collections online.
NOTE: two museums (Van Gogh & the British Museum) from this list also appear on the list from People.

10 Disney World/Land Rides

That's right! Romper put together this list of rides recorded in the Disney parks.

33 National Parks

Totally the Bomb compiled this list of national parks you can explore from your couch via Google Earth.
UPDATE: 4/2/2020– John Hopkins has put together this lovely page full of resources which they are updating regularly and Champlin Community Services (a developmental services and health care provider) has created this list of virtual tours.
I'll keep updating this page as I find more virtual tours and online performances.
In the meantime, is there another resource you've been using that you love? Join our community and share it!
-Sarah
PS I'm not getting paid to promote any of these links.