Tired of feeling stuck? Want to learn a new skill? Sweet! Me too. Here's a list of educational resources to get you started.
FYI… It's easy to overload when you look at these websites. (I know I did!) So here's what I recommend: think about something you've been interested in exploring. Then open up the websites listed below and search for related content.
Focusing your search (like this) cuts out the noise and makes the most of your time.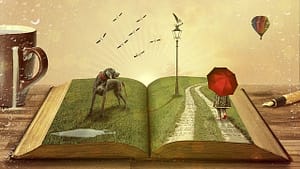 Free Educational Resources
UPDATE 3/24/2020 — Fender

Is offering 3 months of free online guitar lessons to the first 100,00 people who sign up.

Explorable

Articles that dive into history and reasons behind what we do. Like how and when we figured out that handwashing stops the spread of germs.

Stuff You Should Know

A delightfully easy-going podcast that explores a plethora of topics.

Science Rules! with Bill Nye

This call-in show lets you ask questions (and get answers) from the experts on science-related topics! How cool is that?

The Fine Cooking Podcast

I've learned so many neat tips and tricks from this podcast. Like, spray down your knife with non-flavored oil before slicing up sticky things.

Amazing Educational Resources

Wow! This is a huge list of websites offering free content in light of the school closures tied to COVID-19.
NOTE: The CTRL+F function is incredibly useful for finding what you need. Here are a few of the websites that were recommended to me and are listed on this website:
Open Culture

A collection of courses, books, & movies. The content ranges from classic movies and books (both ebook and audiobook style) to courses on design, economics, and beyond! Enjoy.

Cool Math Games

A great tool for kids and adults who just need a break. Some of the games require more thought than others.

Duolingo

I've got this app on my phone right now and am learning both Spanish and French. Which has led to some confusing sentences… Maybe try one language at a time? (Pssst! They've got Klingon!)

Gizmos

You can get a free account for 60 days and experiment with things like how the weather affects a sailboat or how to connect circuits .

Your local library!

Most have a website you can visit. I use mine to download ebooks and audiobooks all the time.
Paid Educational Resources
Udemy

This site has a broad range of topics including several business-focused courses and certifications. Many of the classes I've taken through Udemy included online communities for me to connect with. Also, I've had a great response rate from the instructors I've worked with so far. Although the courses can be expensive, they often run some pretty amazing site-wide sales. Plus, there is a 30-day money-back guarantee. So even if you pick up a course you realize you don't want… you can still get your money back in those 30 days.

Online Universities

I haven't taken any courses through an online university or heard of any particularly amazing options. But, it seems appropriate to point these out. Just in case you want to pick up a(nother) degree.
I'll keep updating this page as I find more educational resources.
In the meantime, is there another resource you've been using that you love? Join our community and share it!
-Sarah
PS I'm not getting paid to promote any of these links.