Montreal! A city filled with striking murals, impressive graffiti, and gorgeous architecture. I wandered wherever my feet would carry me. Along the way, I found thousands of ideas for Montreal inspired drawings.




It would usually start just as I sat down. A spark of an idea! Then, I'd find myself instinctively reaching for my pad and pens.
But, of course, there were times when I found myself reaching for my pens from habit. No clear idea in mind… but, the knowledge that something was lurking just below the surface. That's when I start with a single line on the page and a willingness to explore whatever would come next.
This is the art from those moments.
I was sitting at Grumman '78 enjoying a taco that dripped with stringy cheese. My mind wandered through Mt. Royal Park — where I'd walked that day. I knew I wanted to capture something with nature… but, I didn't necessarily want to replicate what I'd seen.
So, I wiped my hands off and started with the trunk. The energy that had wrapped around the park spilled over into flame inspired leaves.
Which was about the time I met a new friend. We started chatting and… I ended up finishing this picture a few days later.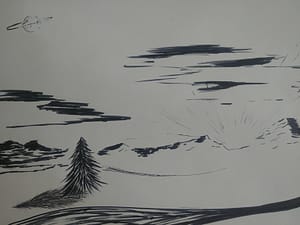 Long shadows draping from trees and spilling over the sidewalk inspired this piece. My love for sci-fi (and space…) embellished it!
I started with the fir tree at the bottom– letting my pen define the shadows from my mind. Then the mountains, and the clouds… everything based on this concept of light and dark.
Finally, a day later, I realized I wanted to add the planet for that hint of the worlds beyond.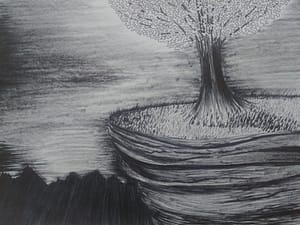 Perched on a barstool and intentionally edged away from the other patrons at Elena, I pulled out my pens. Laid each one down on the table. Then stared at them quietly.
Something needed to be drawn… but, I wasn't sure what it was going to be. It had been a DAY! Not the good kind. The kind filled with challenges and frustrations.
I needed a break.
My mind wandered back to Mt. Royal Park. The beauty of the sprawling city from the top. Slowly the dark weight of my emotions crowded out of my head and onto the page.
Did you like this selection of Montreal inspired drawings? I did more! Check them out on my twitter.
I'm also working on a story (from my time in Montreal) where a conversation with a shop keeper turned into an amazing evening of dance with complete strangers. I'll post it to my Travel Tales as soon as it's done.
Till then, happy adventuring!
-Sarah